About CDK
In today's society, do you feel safe walking down the streets of the Washington DC area or even in your own home? Krav Maga CDK Self-Defense & Fitness Center focuses on quick and easy to learn techniques that will give you Confidence During Kaos!
We have private and group sessions available.
What you will learn:
Real Combatives that work quickly and efficiently.
Escapes against chokes bear hugs head locks etc.
Ground fighting techniques.
Gun, knife and stick defenses and more!
Ask about our Private Home Invasion workshops as well!
CDK stands for Confidence During Kaos AND "Confidence is our business!"
Krav Maga helps you in many different areas of life:
Fitness - Get a workout in while adding to your self defense knowledge. CDK Krav Maga offers a unique workout experience, designed to get you in fighting shape simply by following our instructors. See how working out, and self defense can be seamlessly integrated.
Self Defense - Krav Maga has stood the test of time for combative systems, and when it comes to self defense, it reigns supreme. CDK Krav Maga gives you the confidence to protect yourself and your loved ones should the need ever arise.
Confidence - Confidence is Key. Without it, even a person with the most intricate self defense knowledge will fail. Confidence comes from putting that knowledge to the test, in class, on a regular basis. Come to one of our classes and see for yourself.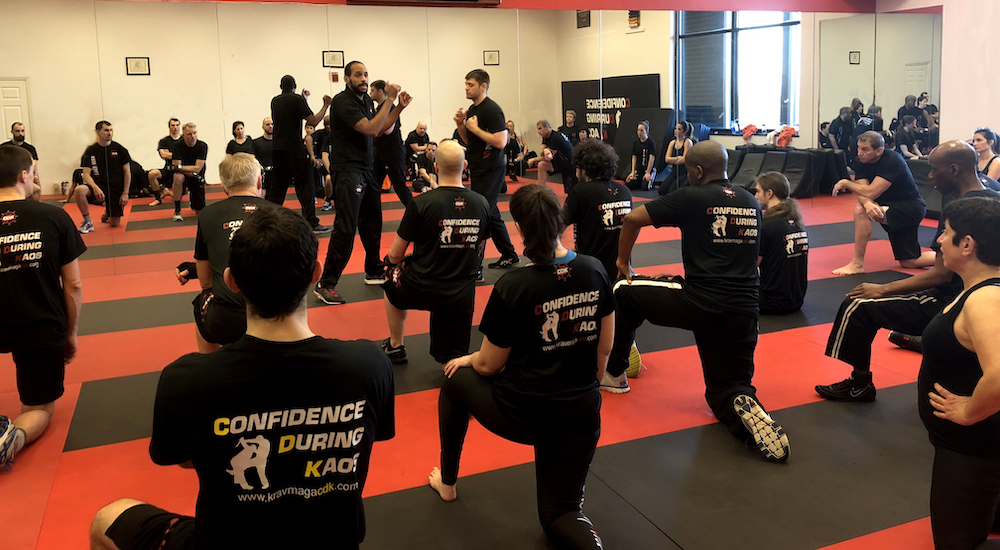 About Krav Maga
Krav Maga is an Israeli close combat Self Defense system that uses instinctive movements that are easier to recall during the stress of an attack. It was started in the 1930s in Germany by Jews who were training to defend themselves against the Nazis. As the Nazis army grew to power, the creator of the system Imi Lechtenfeld deployed to Israel.
The System was soon adapted by the IDF (Israeli Defense Forces) because of it easy to learn but extremely effective techniques and then made its way the United States and is known for being one of the most effective self defense systems to date.